LG G Flex gets hyper-flexed, grazed and sent to pasture
6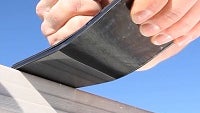 We love torture tests of our high tech gadgets. For the most part, the drop tests are real-world scenarios of what is likely to happen to any smartphone owner. For the
LG G Flex
however, the paradigm of testing will have to shift a bit.
The G Flex has the ability to flex and bend without breaking into pieces. This will be a very appealing feature to those who like to put their devices in their pocket. One would think that such flexibility would be a benefit if the device were dropped too, but we all know that nothing is impervious to the forces of gravity.
Richard Ryan has a knack for putting together some great slow-motion footage. Granted, he follows the same model with every torture test, but even for the LG G Flex he had to switch things up a bit. The G Flex features a self-healing back-plate. The polycarbonate piece itself is not self-healing, but a thin coating that is applied to the plate has the soft link properties that allow it to heal.
So, when you normally already drop, dunk and shoot a device for your test, what else can you add to the repertoire to keep things interesting? Well, full-on bending the G Flex backwards and then simply grazing the self-healing back instead of shredding it with a bullet is one way to start.
Of course even grazing the LG G Flex is more than the healing back can handle, but it makes for some stellar slo-mo footage. In the end, the LG G Flex is dispatched with a single shot across the long axis and we get to see every piece of it.
source:
RatedRR
(YouTube)