LG G Flex 2 will allegedly feature a smaller screen with higher resolution than seen on the original
28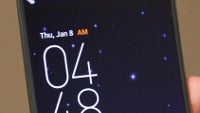 Note: Image on the thumbnail is that of the LG G Flex.
According to a report published on Thursday that cites an executive at LG India, the LG G Flex 2 is expected to have a smaller screen than the 6 inch glass that was on the first model. In addition, the resolution of the display is supposed to be higher than the 720 x 1280 used on the original edition of the
LG G Flex
. That led the device to offer a pixel density of 245ppi, which is absolutely nothing to write home about these days.
The LG India executive says that the new display will be higher resolution than FHD. Assuming that the manufacturer decides not to go with a 1440 x 2560 resolution display, we are talking about a 1080 x 1920 screen. A smaller screen size and a higher resolution will end up producing a higher pixel density for the second generation Flex. There is no word on whether this next-gen handset will offer the same self-healing back that was a very unique feature of the original model.
The LG G Flex 2 is expected to launch first in the South Korean market with subsequent launches expected in the U.S. and India. Last year, the LG G Flex was released in South Korea after the
Samsung Galaxy Round
opened the way to curved screen smartphones. But unlike Samsung's handset, which curves from side to side, LG's model curves from top to bottom.
The LG India executive apparently didn't leave any word on when we might see the LG G Flex 2 launch. Pricing also is unknown at this time.
Thanks for the tip, William!
source:
Gizbot.com