LG Electronics shares rise as its smartphone business grows and continues its traction into 2015
5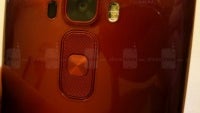 LG Electronics' mobile executives are happy executives at the moment, because the company's share prices have risen 4.7%, prompted by strong product demonstrations at CES 2015. And with sales of the
LG G3
propelling a 8.9% increase in mobile market share to a promising 16.3% in November last year, LG's smartphone business is on an upward trajectory. For the first time in a while, analysts are getting excited! Reuters reports that Kiwoom Securities, a consultant firm, is promising clients interested in LG "steady growth on the back of improvements for the smartphone business" from the company.
On another topic, it looks like we can legitimately add LG's rise to the growing list of Samsung's worries now. A list that's being populated by dwindling smartphone sales, people not talking about Galaxy smartphones like they used to, Apple selling iPhones like hotcakes, and Xiaomi wooing Chinese customers. Still, this is Samsung - it has a surplus of resources to throw at any of the problems looming over its success.
As of recent, Samsung Mobile has been re-imagining its device offerings with meticulous designs and up-to-date hardware components. The new Galaxy A series is its arsenal for targeting the niches not occupied by expensive flagship smartphones, while the impending Galaxy S6's announcement is coming closer by the day. But with LG's
G Flex 2
and
upcoming LG G4
commanding deserved attention, the feud between the Korean chaebols will be more aggressive than ever this year.