LG Connect 4G hands-on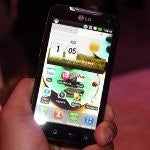 Well
MetroPCS
fans, if you've been eying the LG Lucid for Verizon Wireless, you'll be extremely glad to know that a very similar version is now available for purchase in the form of the
LG Connect 4G
. Priced at
$249.99 no-contract
, it's undoubtedly on the upper end of the scale for a MetroPCS device, but it's able to stand out for its respectable specs and addition of
4G LTE connectivity
.
Right away, we're reminded about the LG Lucid as we take a look at the LG Connect 4G, mainly because its sports a plastic body that's
extremely compact
for something donning a 4-inch display. Overall, it feels very solid in the hand, while being accompanied with a good amount of weight. Even though it doesn't boast a stunning design of some kind, we're content with its overall build quality and compact form.
Causing us to blink our eyes often, we're enchanted in many ways by its
high-contract 4" WVGA (480 x 800) LCD display
, which flaunts a piercing
700 nits
of brightness. Despite not being classified as a NOVA display, we're enthralled by its strong brightness output and rich color production. No doubt, WVGA resolution isn't the shiniest thing in the stable nowadays, but nevertheless, it's sufficient enough for this beauty. More akin to being an upper mid-range smartphone, its
dual-core 1.2GHz processor
makes short work out of basic tasks, as it's able to maintain a good amount of responsiveness. Above all, MetroPCS customers will surely appreciate that this bundle of joy is packing support for LTE connectivity. As for the rest, it features a 5-megapixel camera with LED flash, 1,540 mAh battery, 720p video recording, front-facing VGA camera, Bluetooth 3.0 with EDR, Wi-Fi, and the Optimus skin running on top of Gingerbread.
All in all, it's your better than average MetroPCS smartphone, which will satisfy those customers who simply tire of low to mid-range devices. Lastly, since it's outfitted with LTE connectivity, users are bound to enjoy its peppy data connections.