LG CX2, aka Optimus 3D 2, will be bringing back 3D to the mainstream at MWC?
12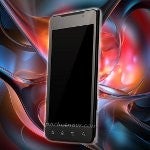 Looking around, there's no kidding that 3D movies are still in demand, even though there have been some terrible ones brought to life on the big screen – but when you consider the bigger picture, it's a unanimous win. However, it's rather difficult to say what it's like surrounding the wireless industry. We've seen the LG Optimus 3D/Thrill 4G and HTC EVO 3D making the rounds last year, but for quite some time now, it has been relatively quiet and almost non-existent.
Well folks, it seems that all of that is about to end soon! That's because it's alleged that
LG
will be introducing its latest
3D-enabled
smartphone, which is shooting for a date with
Mobile World Congress
. Currently dubbed as the
LG CX2
(aka the Optimus 3D 2), its name certainly doesn't allude to any kind of 3D features, but in any event, it will be bringing it back to the mainstream.
Of course, looking at the
leaked rendered shots
for the smartphone doesn't pony up the slightest evidence of anything 3D, but nevertheless, they're prepping this successor to the original Optimus 3D – thus, improving upon the auto-stereoscopic implementation. Not surprisingly, it's being given the usual set of upgrades in the specs department. In fact, it'll feature a 4.3" WVGA NOVA display, dual-core 1GHz TI OMAP processor, 5-megapixel rear camera, front-facing camera, 802.11 b/g/n Wi-Fi, Bluetooth 3.0, 21Mbps HSPA, NFC, DLNA, 8GB of internal storage, and Gingerbread (hopefully ICS when it's released).
mighty specs in tow with the LG X3
– you know, that quad-core and ICS packing smartphone that's also expected to make a debut at MWC. Perhaps, if you take fancy in the whole 3D thing, then of course, you'll probably want to keep a keen eye on this one. Considering that this is in the pipelines, it makes you wonder if we'll be seeing a
slew of other 3D devices in the near future
.
source:
PocketNow
via
Android Central