Crazy rumor suggests Samsung Galaxy S III will have a 3D screen
28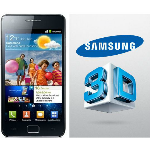 We know how much you all love ridiculous rumors, especially those that suggest a phone that is destined to be mega-popular will be getting an absurdly gimmicky feature, but there are rumors going around now that the Samsung Galaxy S III may have a 3D screen. Don't get us wrong, when 3D is done well, it can be amazing. But, in all of the 3D craze that we've seen over the past couple years, we've seen it done right twice: Avatar and Super Mario 3D Land. Everything else has been nothing more than a gimmick, and with the high number of people who either don't see the 3D effect or are made ill by it, it seems highly unlikely that it will ever catch on as the (price boosting) standard that media companies would like.
Samsung has never adopted 3D technology, despite the rumor of a
Galaxy S II with a 3D display
, and 3D technology has not gained any sort of hold in the mobile phone market. There's just no real value in it. No one wants to be forced to view their phone or tablet from a specific angle or using special glasses for a slight 3D effect that adds nothing to the experience.
The support of Samsung could definitely be a shot in the arm for 3D tech in mobile devices, but it would be more of an impetus for manufacturers to build it in, regardless of if users actually want it. We'll find out more at MWC in February, but if we had a rumor stamp that said "Please Don't", we'd drop it all over this idea.
source:
ETNews
via
pocketnow