Kyocera Torque is a tough Android smartphone headed to Sprint
2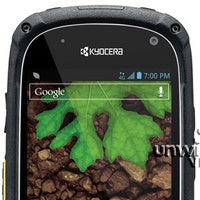 Hold on to your hats, ladies and gentlemen, for there's a new rugged Android smartphone coming to town. It is known as the
Kyocera Torque
, and U.S. carrier Sprint is clearly its ultimate destination. The device has already been given the thumbs up by the FCC, meaning that it is now one step closer to being released on the nation's third largest carrier.
Unfortunately, there's little we can tell you about the Kyocera Torque (model E6710). Most of its hardware specs, including screen size, resolution, processor model and make, are still a mystery.
What we do know about it, however, is that LTE connectivity is present, in addition to NFC, Wi-Fi and GPS. And judging by the pair of exposed metal terminals on the device's back, there will probably a dock of some kind made for the Torque. The smartphone also comes with a front-facing camera and a main shooter paired with an LED flash.