Kyocera Rise rumored to launch on Sprint and Virgin Mobile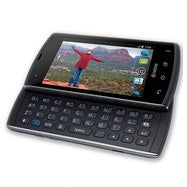 A new rumor suggests that the Rise will be finding a forever home on both Sprint and Virgin Mobile in the near future. Twitter leaker, @evleaks, posted a photo of the device and said, "Kyocera Rise (C5155) for Sprint. Specs already announced. Also coming to Virgin Mobile."
a hands-on look at the Kyocera Rise at CTIA
, it will sport a list of vapid specs including a single-core 1GHz processor, a whole 512 MB of RAM, a voluminous 2 GB of on board storage, a good-enough-to-take-pics-of-your-dinner-and-post-them-to-Facebook
3.2
-megapixel camera, and a 3.5-inch display with a resolution of 320 x 480 pixels. Excited yet?
The highlights of the device are that it will be running Android 4.0 Ice Cream Sandwich, it features a full QWERTY keyboard, and, while the official pricing hasn't been release yet, it will probably be very inexpensive.
If this handset does join Sprint's post-paid lineup, as long as it can be had for free with a contract, the
Kyocera Rise
will be a nice addition to the budget smartphone category, especially for those who want their smartphone experience to built around messaging.