The new Kirin 990 chipset is built like Apple A13 and bests it with a key feature
37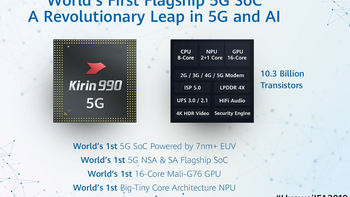 Samsung took the laurels of announcing the first second-gen 7nm processor -
Exynos 9825
- before Huawei this year, unlike what happened with Huawei's
Kirin 980
last fall. Samsung was also the first to announce an integrated all-in-one 5G chipset - the
Exynos 980
- which solders midrange chippery together with a 5G modem for the first time. Until now, all 5G phones came with one extra Qualcomm, Samsung or Huawei 5G modem tacked on separately that puts extra drag on the battery and RAM capacities.
The Kirin 990 that Huawei just announced, however - the first high-end mobile applications processor combined with an efficient 5G modem in a true system-on-a-chip style - will soon be in phones like the
Mate 30 Pro
, whereas Samsung has still to tip any handsets where the Exynos 980 will be used.
Both the Kirin 990 processor cores and the 5G modem chip are laid out with the most efficient process available at the moment - a second generation 7nm EUV lithography, just like the Exynos 9825. Here's a quick specs comparison between the two and Snapdragon 855+:
Kirin 990
Samsung Exynos 9825
Snapdragon 855+
Production process
7nm EUV
7nm EUV
7nm (TSMC FF)
Processor cores
2xCortex-A76 at

2.86GHz



2xCortex-A76 at 2.34GHz

4xCortex-A55 at 1.9GHz

~10.3 billion transistors
2x Exynos M4 @2.73GHz

2x Cortex A75@2.4GHz

4x Cortex A55@1.95GHz
1x Kryo 485 Gold (custom Cortex-A76) @

2.96GHz



3x Kryo 485 Gold (custom Cortex-A76) @ 2.42GHz

4x Kryo 485 Silver (custom Cortex-A55) @ 1.80GHz
GPU
Mali-G76 MP16 (16 cores)
Mali-G76 MP12
Adreno 640
Modem
Balong 5G (integrated)

Downloads: 2.3Gbps

Uploads: 1.25Gbps

no mmWave, just sub-6Ghz, 4 antennas
Shannon LTE
(Category 20)

Downloads up to 2Gbps, 8xCA

Uploads: up to 316 Mbps

Exynos 5100 5G modem add-on, mmWave and sub-6Ghz
Snapdragon X24 LTE
(Category 20)

Downloads: up to 2Gbps, 7xCA

Uploads: up to 316Mbps

X50 5G modem add-on, mmWave and sub-6Ghz
AI co-processor
Yes, quad-core NPU
Yes, dual-core NPU
Yes
Video encode
8K HDR at 30fps
4K HDR at 150fps
8K HDR at 30fps
4K HDR10+
Misc.
Most power-efficient AI and image processing

First BM3D DSLR-level image and Dual Domain video noise reduction support
Computational photography

UFS 3.0 storage support for up to 2.9GB/s speeds
Computational photography

4K HDR Bokeh Video

8K 360 VR video playback

Always-on noise cancelation

Dual-frequency GPS
Kirin 990 5G and AR features
Since the special emphasis here is that this is as high-end of a chipset as
Apple's A13 in the iPhone 11
would be, built on the same N7+ process by TSMC, and yet will feature an integrated 5G modem, something unheard of so far, we want to focus precisely on the 5G abilities.
Sadly, these don't include the high-frequency mmWave bands that Verizon, T-Mobile and the US carrier networks currently use for 5G in general. In 2020, however, all major US carriers will start rolling out their low-band 5G networks en masse. Needless to say, Huawei has a snowball's chance in hell to have phones on US carriers given the White House administration animosity towards its products but it's cool that we are finally getting a true 5G SoC for high-end phones.
Huawei is keen to underline that its 5G modem is the most power-efficient and signal-friendly one to date, and knowing its leadership in 5G research, we are inclined to take its word without Himalayan pink salt.
Such is the Kirin 990 5G frugality, it mentioned to us, that it surpasses that of Qualcomm's X50 modem, and is more in line with what your current phone consumes to maintain 4G connectivity. Huawei uses machine learning adaptive receiver to increase performance gain in comparison with X50, too.
This is a big step ahead from current 5G phones that have to be equipped with 4000+ mAh batteries just to make ends meet when hooked to a 5G network. Good, meet best, too bad we can't have any of those bad
Mate 30 Pro
or foldable
Mate X
boys stateside to test the Kirin 990 performance but we'll find a way once
September 19th
rolls in.