Kindle Fire chills with an Ice Cream Sandwich port
5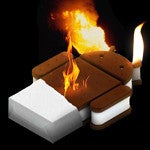 Owners of the
Kindle Fire
are being showered with gifts this holiday season. With
one-click root
and the official
Android Market
and Google Apps on a Fire, what more could Google purists want? That's right, how about a custom port of the latest version of Android: Ice Cream Sandwich.
That wish is coming true, as a developer is showing off an early working port of all that ICS goodness on his Kindle Fire. This is after a mere two weeks, so not surprisingly there is still work to be done – wifi isn't working yet – but the code is going to be cleaned up and open-sourced, so it's only a matter of time until a stable version of ICS is ready to withstand the heat of the Kindle Fire.
This development suggests that the Kindle Fire may be just as friendly to enthusiasts as the Barnes & Noble Nook has been. In the case of the Nook a
whole community
of developers sprang up to let owners maximize their device, and may have helped drive early sales.
The new
Nook Tablet
and Kindle Fire are more powerful devices than the original Nook, but the latter comes in at a lower price point. For consumers with a little bit of technical experience, this could create an excellent entry-level tablet for people who want stock ICS, but don't want to drop $500-600 to get it.
Does this make anyone out there more interested in picking up a Kindle Fire during the holidays? Let us know!
source:
Steven's Android Apps
via
Engadget