Kin sales to stop today?
This article contains unofficial information.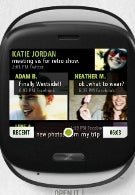 Amid sales
rumored at one point
to be as ridiculously low as 500 units, Verizon has apparently decided that it is time to 86 the Kin phones. This means that all sales of the two Kin models will be halted starting today. Despite fairly heavy promotion aimed right at the teen market that the phones were designed for, both Kin One and Kin Two were up against the Android juggernaut that Verizon itself has created and has maintained with last week's launch of the high-end super spec'd DROID X. For Microsoft, it is a quick end to a project that first leaked out with two phones called Turtle and Pure, and scored a bit of notoriety when a commercial for the phones
seemed to condone some sort of sexting
. When the dust settled, the pair were considered smartphones by Verizon, but offered no app store and were not constructed with "premium" material. No surprise here though, as Microsoft had
already announced
the end of the project and no next of Kin.
Microsoft KIN ONE Specifications
|
Review
(ONE and TWO)
Microsoft KIN TWO Specifications
source:
BerryScoop