Kickstarter project offers modular mounting system for your iPhone or Galaxy Nexus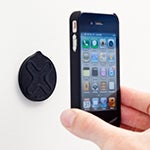 Kickstarter brings
many cool things
, not the least of which is the connected
Pebble smartwatch
that has smashed all records on the crowdfunding site. Today's product may not be as revolutionary, but it's handy enough that it's worth a looksee by iPhone 4/4S and Galaxy Nexus owners. The product is named Wallee M, and it's a modular phone mounting system.
Using a strong magnet made from rare-earth metals, the Wallee M mounts and custom phone cases allow you to easily create a mount for your smartphone practically anywhere in your home or car. The system features discreetly sized wall mount disks, desktop stands, and a suction-based car mount. Any of the mounts let you set your phone on them vertically or horizontally, so you could use it in portrait mode to read a recipe, but quickly turn it to landscape to watch a how-to video demonstrating the meal you are cooking.
The cases are quite slim, and the whole product line appears well made. Since a picture is worth a thousand words the demo movie below must be worth several million – so if you're in the market for a modular phone mount system (and own one of the requisite phones) you should take a peak. You can get to the Kickstarter page by clicking on the source link below.
source:
Kickstarter
via
Droid-Live