Kantar's latest market numbers paint a slightly better picture for Windows Phone, Android looks unstoppable
78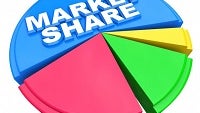 Even when you have similar sets numbers at your disposal, figures are still subject to interpretation. About a week ago, we
passed along market data from IDC
indicating a contraction in market share and actual sales for Windows Phone.
There were a variety of factors in play that contributed to such figures, but again, it is all in the eye of the beholder. Kantar's latest figures for the three months ending in July reveal quite a bit of insight while showing less negative data.
On the manufacturer's front, Xiaomi is the big winner in China, whose success is owed to Android. Huawei and Coolpad also saw gains. ZTE, Lenovo, and Oppo are feeling some heat, however, as it appears their growth is not keeping pace with the expansion of the Chinese market.
Samsung is the big winner in the United Kingdom, where Kantar reports that more than half of its customers who purchased the new
Galaxy S5
were upgrading from an earlier Samsung model. Samsung has a healthy conversion rate from former Apple customers too, as much as 20% being previous iPhone owners. Samsung's sales are plucking from HTC too, from which, 18% of sales were accounted.
First, when it comes to the big players, Android is a success driver not just for itself, but for key manufacturers. In the United States, China, and Mexico, Android is absolutely hammering its competition, making large gains mostly at the expense of Apple.
Windows Phone is a mixed bag, losing ground in China, Mexico, Germany, and France. Those losses are somewhat abated by the gains made Spain, Italy, and the United Kingdom, and that resulted in Windows Phone seeing an overall gain across what Kantar identifies as the "EU5" (UK, Germany, France, Italy, Spain). Taken as a whole, it looks like a wash for Windows Phone, which is hardly "winning," but it is better than iOS is doing.
Apple's share seems to be shrinking, but given the company's record sales, it is more an issue that its higher priced offerings will not keep up with market growth. However, as competitors' quality continues to improve while keeping prices in check, it is yet to be seen if Apple's model will sustain itself in the long term. Otherwise, we can expect to see more
iPhone 5c
-type variants in the future.
sources:
Kantar
via
WMPoweruser