Kairos confirms Windows Phone support for its hybrid smartwatch
14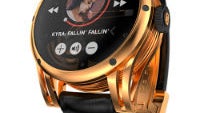 Yesterday, we saw a new hybrid mechanical smartwatch from
Kairos
, which (if real) looks like a potential game-changer in the burgeoning smartwatch market. The device will essentially be a traditional mechanical watch that has a transparent OLED display on top in order to serve up notifications, alerts, media controls, and more.
The watches will feature a proprietary Kairos OS and the website specifically lists Android and iOS compatibility, but it doesn't mention anything about Windows Phone. It seems that there were enough people interested in the watch and asking about Windows Phone support that Kairos has decided to add in support for Windows Phone 8.1. Kairos didn't specifically say, but we assume WP support will be available at launch since the devices aren't planned to ship until December.
The Kairos watch certainly looks amazing in the renders, mixing traditional style with smartwatch functionality and getting impressive battery life in the process. Even more interesting is that Kairos is planning an upgrade system rather than forcing buyers to purchase a new version of the hardware. Starting at $99, you can send your Kairos back and have them upgrade any of the electrical components, including the battery.