KUKE iPhone 6/6s battery and storage case kills three birds with one stone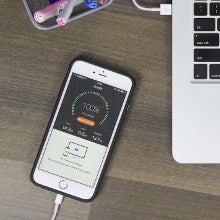 The
iPhone 6
and
6s
have many virtues, but battery life and cheap storage aren't one of them. Enter KUKE - the cooky case that remedies both wrongs in one wrapper, and protects your phone in a fairly stylish manner while doing it. KUKE is slimmer than both Apple's own
Smart Battery Case
and
Mophie's Juice Pack
, which are the standard-bearers of such cases for the iPhone.
Still, it packs a 2400 mAh juicer that extends your battery life for a further 10 hours of video binging, and you can charge both the phone and the case through the Lightning port at the bottom, which is pretty handy. Moreover, KUKE comes with your choice of 16 GB or 64 GB of built-in storage, so you can expand on your basic amount significantly, and manage files back and forth with the supplied app.
How much for this all-in-one? Well, the super early birds on KUKE's Indiegogo campaign can get the 16-gigger for $69, shipped free around March, and the 64 GB version will set you back $119, while the regular prices are ten bucks more. The case offers more than Apple's or Mophie's creations for this kind of ricing, and yet it's a startup brand, so it should be enticing users with better value for the money than the established brands. Any takers?