KGI: The high price of the Apple iPhone X is partially due to the cost of Samsung's OLED panel
38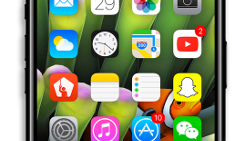 The other day, we passed along the rumor that
the 512GB version of the Apple iPhone X would be priced at $1,199
. This price tag would be seen just weeks after the 64GB
Samsung Galaxy Note 8
was unveiled at a price of $929.99. According to a report to clients sent out today by KGI Securities, workplace of analyst Ming-Chi Kuo, the price that Apple is paying to Samsung for OLED panels is one of the main reasons for the premium price of the device. These panels will cost Apple twice the cost as the LCD panels it has been purchasing for the
Apple iPhone 7
and
Apple iPhone 7s
sequels that are rumored to be called the iPhone 8 and iPhone 8s.
To put this in perspective, Apple is believed to pay $120 to $130 for each OLED panel it obtains from Samsung. That compares to the $45 to $55 it pays for the aforementioned LCD display. This is one of the reasons why Apple is currently looking for a second supplier of OLED panels, such as LG. Not only would a second supplier help Apple maintain a steady stream of OLED displays, it would also allow Apple to create a competition among the two suppliers based on price.
Samsung's OLED displays do not support 3D Touch since they do not respond to differences in touch pressure like its LCD screens do. KGI says that this is the reason why Apple gave up trying to embed Touch ID under the display. According to the securities firm, OLED does not do well when trying to read a fingerprint scanned through this type of screen. As a result, on the iPhone X Apple is replacing Touch ID with a 3D face recognition system that uses a front-facing camera to unlock the iPhone, and verify identification for Apple Pay.
Only the tenth anniversary iPhone model will feature an OLED screen in 2017. The remaining units to be released this year, the iPhone 8 and iPhone 8 Plus, will be equipped with LCD panels. Starting with the 2018 models, all three iPhone units to be released every year will each carry an OLED screen.
source:
9to5Mac