Just how orange is an Oh So Orange Pixel 4
6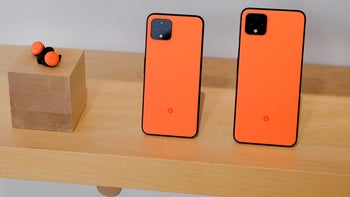 What's the most important thing for a layman entering a carrier store? The chipset, camera resolution, the gigs? Meh, it's the design that catches your eye, and that big camera hotplate on the back that tech reviewers are raging over only makes the average buyer think "this phone must have a great camera!"
The other thing that immediately grabs the "normal" person's attention is the color palette that the phone is offered in. Besides the obligatory black and white models, the world's largest phone makers are now offering a rainbow coalition of hues, and Google isn't straying from the trend with the Oh So Orange model of the Pixel 4 and 4 XL.
How orange is that orange, though? It looks pretty orange on the box and in some videos, even in our Fuji-taken photos of it but when we held it in person, it doesn't look all that much... citrus fruit. It's more like a coral, salmon, ash pink, whatever the official Pantone chart denomination will show for that color, but certainly not the orange we are used to be called that.
Don't believe it? Here's the Oh So Orange Pixel 4 next to some actually orange things around it, courtesy of
Inverse
, coupled with a few of our own Pixel 4 hands-on pics. Who's the orange one now, Pixel?
Recommended Stories