Jony Ive talks about design theft, and much more, in U.K. interview
37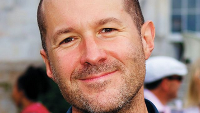 He's the SVP of design at Apple, which makes Jony Ive a very interesting interview. He recently sat down with the
Sunday Times
in the U.K. and made some fascinating comments. First of all, according to the executive, those who steal Apple's designs are committing "thefts." And while he might not mention Samsung by name, you know that the Korean rival would have to be near the top of the names in his mind.
Ive talked about how he and the late Steve Jobs would put the utmost care into parts of a device that the public would never see. "
It didn't make any difference functionally
," said Ive. "
We did it because we cared, because when you realize how well you can make something, falling short, whether seen or not, feels like failure.
"
"We're surrounded by anonymous, poorly made objects. It's tempting to think it's because the people who use them don't care -- just like the people who make them. But what we've shown is that people do care. It's not just about aesthetics. They care about things that are thoughtfully conceived and well made...We make and sell a very, very large number of (hopefully) beautiful, well-made things. Our success is a victory for purity, integrity -- for giving a damn."
-Jony Ive, SVP of design, Apple
While Ive would not reveal whether Apple is working on the rumored Apple iWatch, his response to a question about the wearable practically was anything but a flat denial. "
Obviously I'm not going to talk about it, it's a game of chess, isn't it
," he said. He also talked about the intimate relationship that buyers of Apple products have with their purchase. He considers those who wait in line for Apple's latest models to be demonstrating "
against thoughtlessness and carelessness
."
Don't forget that Ive took his design deeper into the workings of the Apple iPhone when iOS 7 was released. He replaced Scott Forstall, former iOS chief,
whose refusal to take written responsibility for the failed Apple Maps debut led to his "removal" from Apple
. Ive went with flatter, more pastel colors and remove the skeuomorphic icons beloved by Steve Jobs and Forstall.
Even though design is Jony Ive's job, he says that everyone he works with at Apple has great respect for how a product is made. "
Objects and their manufacture are inseparable. You understand a product if you understand how it's made
." Speaking of which, he once took apart his iPhone and put it back together, just to prove that he could do it.
source:
TheSundayTimes
(SubscriptionReq'd) via
9to5Mac
,
CNET