John McAfee to 'defeat NSA' with Decentral - a $100 gizmo that keeps your Android or iPhone private
13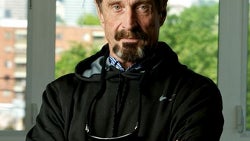 When not quarreling with Belize neighbors on dog matters or teaching yoga, eccentric software security veteran John McAfee is getting peeved by the
NSA's recently disclosed surveillance techniques
. He even made the crazy video below advising folks how to uninstall the product of his former antivirus company, hinting that those pieces of software are part of the vast collection of NSA backdoors to your digital existence.
Now John McAfee is taking the privacy matter in his own capable hands, announcing at the San Jose McEnery Convention Center that his team is working on Decentral - a device that will put a wrench in NSA's abilities to track your phone's content and whereabouts. "
There will be no way [for the government] to tell who you are or where you are
," claims McAfee.
Offered first for Android and iOS handsets, Decentral is supposed to cost around $100, and create a "floating" network around your device that can't be peeped into from outside. The protection range is expected to be around three blocks in an urban environment, and about a quarter mile or 400 meters in the open.
The inventor mentioned that the Decentral project has been on his mind for a while, but he is now fasttracking it in light of the NSA surveillance scandal, and the first prototype is six months away. If Decentral gets banned by the government, he has a contingency plan: "
I'll sell it in England Japan, the Third World. This is coming and cannot be stopped
."
Disclaimer
: NSFW, foul language