John McAfee, of antivirus fame, reveals "world's most hack-proof" John McAfee Privacy Phone
17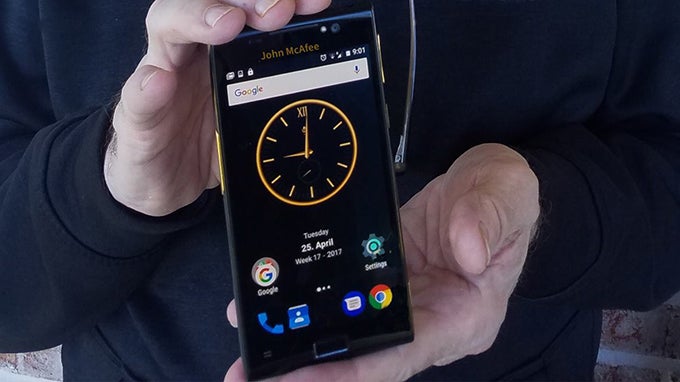 You may have heard John McAfee's name before: he's most famous for creating the first ever commercial antivirus software, McAfee, though he's long divorced from the company that makes it. Now, he's also branching out into other businesses, apparently – he's officially revealed what he calls the world's 'most hack-proof' smartphone, tastefully named the John McAfee Privacy Phone.
In order to back up this claim, John McAfee's John McAfee Privacy Phone is equipped with several physical switches on the back of the device, letting users manually switch off the battery, the antennas for WiFi, Bluetooth and geolocation, the camera, and the microphone, thus going completely offline. The device, whose back cover containing the switches has curiously not yet been pictured, also hasn't had its specs revealed. John McAfee, however, claims they will be released a week ahead of launch, and that they will be "revolutionary".
John McAfee does have a lot to gain from a privacy-oriented phone such as his John McAfee Privacy Phone, given his own peculiar past involving the authorities. Back in 2012, he was arrested by the Belizean police for unlicensed drug manufacturing and possession of an unlicensed weapon, and a few months later he was also a person of interest in a murder case involving an American expatriate. Also, in 2015 he was arrested for a DUI and possession of a firearm while intoxicated.
The John McAfee Privacy Phone will be released through MGT, a cybersecurity firm John McAfee is a head of. It will cost $1,100 and will, as per John McAfee's own words, be "light years ahead of the
Blackphone
or any other phone claiming to be secure." Work on a second generation has also already started.