John Legere recaps T-Mobile's year with a Fireside chat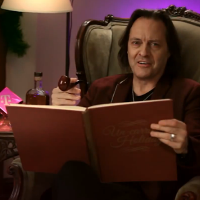 Ah yes, only T-Mobile CEO John Legere would think of recapping the carrier's year by donning a smoking jacket, grabbing a pipe, and reciting a rhyme to verbalize T-Mobile's accomplishments for the year. And this is done all in front of a warm fireplace. The ornaments on the Christmas Tree feature the T-Mobile logo, as do the presents. Those who follow the executive's Twitter feed will also recognize the creepy Legere doll making a cameo appearance.
Reading from a book titled "Un-carrier Holiday," T-Mobile's CEO reads the rhyming material with the same amount of gravitas that you would expect to see on Masterpiece Theater. "
Twas the holiday season, but the carriers had no cheer, the Un-carrier had them worried, twas us they'd come to fear,
" Legere reads. Other topics mentioned by the executive include T-Mobile's Q3 earnings report, and Legere's propensity to reply to social media. And yes, he even gets in a shot at AT&T Chairman and CEO Randall Stephenson, who has become the T-Mobile executive's favorite punching bag.
Love him or hate him, there is no denying that John Legere is not like the short-haired, pinstripe wearing executives that populate the industry. Legere is more like one of T-Mobile's own customers, which is probably the reason why he relates so well with them. If you're looking for some holiday cheer from the executive that loves to shake up the wireless industry, click on the video below.
source:
T-Mobile
via
SlashGear