Jobs originally wanted Apple Stores to target creative professionals
19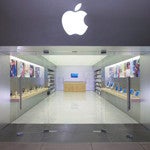 A Forbes report on Ron Johnson, the man who made Apple Stores what they are today, highlights some interesting history behind the edifices. When Johnson signed on, much time and energy had already been placed into a very different concept – stores that would target creative professionals.
The idea was born before the mobile revolution of course, and Steve Jobs was trying to create stores that could broaden the reach of Apple computers at a time when electronics retailers weren't even stocking Macs due to their low market share and high prices. Creative professionals were one of the few niches markets where the Mac still had a large market presence, so it's easy to see what Jobs and team were thinking.
Johnson recounted how he tackled the idea even before he was hired, "(Jobs) said it'll be a store for creative professionals. I said, 'Well, then I'm not coming. If you want to be a store for all Americans, sign me up.' "
Apple's suite of self-branded retail stores are now the most profitable in the world, earning an astonishing $6,000 per square foot. Their strong presence is also what has allowed Apple's star to rise so quickly in the smartphone and tablet industry; while the original iPhone was a breakthrough in technology and user experience, Apple also benefitted because they had a launch pad to sell the devices. Customers that were put off by the shopping experience at cell phone stores in 2007 could instead choose to shop at an Apple Store, where the iPhone is the only choice.
Likewise, the already-existing retail base helped to launch the iPad when it shipped, and two short years after launch Apple sold more iPads in Q4 than any PC vendor. Yet it wasn't inevitable. Even after ground had been broken on the original Apple Stores, Johnson made drastic overhauls to make sure they got things right. The story that Johnson recounts feels like a classic Steve Jobs story:
Johnson had come in early to meet with Steve before a meeting to tell him that the Apple Stores were designed all wrong. The stores had been designed around showcasing individual products, rather than the new digital hub lifestyle that Apple was promoting. Jobs was reacted with fury, responding "Do you realize how much time I put into designing this store?" After an interminable silence, Jobs finally admitted "You might be right, but don't talk about it to the team today."
Johnson headed to the meeting, and when Jobs showed up what do you suppose the first thing out of his mouth was?
"Ron thinks this store is all wrong, and he's right. We're going to start over."
The Apple Stores of today, where many of us go to purchase the latest iDevice, isn't just a product of Steve Jobs, they are a product of the shared vision of Steve Jobs and Ron Johnson. With the
passing of Jobs
and the
departure of Johnson
to J.C. Penney's, it will be fascinating to see how the Apple Stores evolve in the coming years.
source:
Forbes
via
Apple Insider