Jimmy Kimmel's iPhone 5 makes us more disappointed in the iPhone 4S
21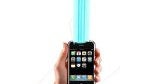 We know that many of you are pretty disappointed in the reveal of the iPhone 4S, just as
investors were
. It certainly wasn't magical, or even all that innovative. And, it definitely wasn't the best way to begin the post-Jobs era at Apple. Many of our notions have been shattered, most notably that Apple tends to release more matured products. While iOS 5 notifications are more matured than Android, the voice commands seem to be about the same, if not a bit behind as
Siri
supports fewer than the 6 languages available with Google's Voice Actions.
Even though we only got the iPhone 4S today, last night, Jimmy Kimmel showed off the iPhone 5, and we must say, Jimmy's iPhone 5 makes the 4S look like even more of a let down. Of course, it can also be the official start to the iPhone 5 rumor mill (you know you're super excited about starting iPhone 5 rumors right this very second.) So, you heard it here first: the iPhone 5 will have a real-life lightsaber built in and more amazing features.
And now, back to non-Apple news (read: Nexus Prime rumors until next Tuesday, when we can finally put that to bed as well)!