Investors underwhelmed by Apple iPhone 4S; Apple's stock drops five times as much as NASDAQ
41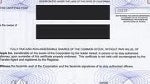 Now that the world knows about the
introduction of the Apple iPhone 4S
, investors are expressing their opinion about the announcement by selling the stock. With the tech heavy NASDAQ average down by .85%, Apple's stock is currently down over 5%. That translates intro a drop of $19.13 to $355.47.
As we reported, the Cupertino based firm will be
launching the Apple iPhone 4S on October 15th
. The device looks like the current Apple iPhone 4 with some fairly big improvements such as the addition of the dual-core A5 processor, an 8MP camera with 1080p video capture and the Siri voice recognition system. An Android-like notification system has been added and the battery has been tweaked to last longer.
The device will go on sale at a price as low as $199 after a signed 2-year contract
, for the 16GB version. Investors might have expected much more, such as an Apple iPhone 5 with a new design, larger edge-to-edge screen and a gesture based home button.
Apple's stock made a 52 week high at $422.86 and
the company's stock has become one of the major leaders in the market
over the past few years. At the time the first Apple iPhone launched in June 2007, the stock was trading at $120.
source:
Yahoo