Jelly Bean was running 59.1% of Android devices in December
39
https://www.phonearena.com/The latest Android distribution numbers for December are out and as expected, the three builds of Jelly Bean led the way. Android 4.1, Android 4.2 and Android 4.3 together accounted for 59.1% of Android devices in use during the month. That is up from the 54.5% scored by Jelly Bean last month. More precisely, in December 2013, Android 4.1 was on 35.9% of the devices powered by Google's open source OS. That lead all builds of Android. 15.4% of Android devices had Android 4.2 installed while 7.8% featured Android 4.3.
While KitKat had a small .3% boost to 1.4%, the percentage of Android devices with Gingerbread running the show declined by 3%. The two builds of Ice Cream Sandwich, Android 4.0.3 and Android 4.0.4, together accounted for 16.9% of Android models last month.
As time goes on, we should see KitKat's percentage rise as the number of Android models running on Jelly Bean stabilizes and the use of the Ice Cream Sandwich builds decline. The information covers Android devices that visited the Google Play Store over a 7-day period that ended January 8th.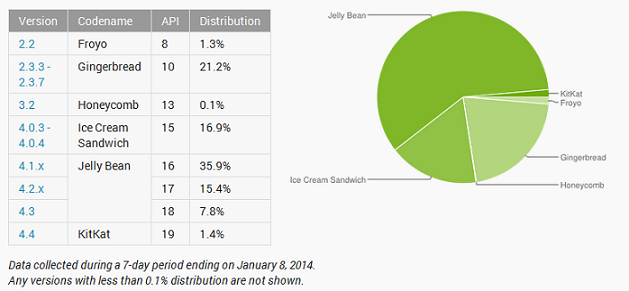 Jelly Bean was the most used build of Android in December
source: Google