Jelly Bean brings 3 different UIs for Android devices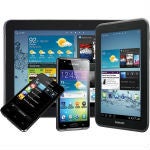 The Android ecosystem isn't tightly controlled like Apple's, so the idea that 2 different UIs (one for phones, and one for tablets) would be enough to make all devices work to their fullest may not be correct. At least, that's Google's idea with the new Android 4.1 Jelly Bean update, which reportedly has 3 different UIs to take advantage of each screen size.
The different UIs are specifically for the Android system itself, of course, as apps will scale automatically to any size. Apps will all scale, but will only look good on larger screens assuming developers have bothered to use the Android SDK tools properly. Still, with Jelly Bean, Google has decided that the interaction metaphors used on phones or on 10" tablets may not be the best for use on a 7" tablet, and has added in an extra UI for that use case, which mixes together the best of both worlds.
We've seen the evidence of this with the Nexus 7, which uses the pull-down notification shade that is seen in Android phones, but has the paneled app layouts that you'd expect from an Android tablet. At first, it was thought that the Nexus 7 was using the phone UI, but actually it is a new UI layout for 7" tablets. So phone, 7" tablet, and 10" tablet layouts are going to be the defaults for Android Jelly Bean and going forward.
And, just to reiterate, because we know there will be those out there who want to scream the "f" word (which we no longer use around here): the addition of the 7" tablet layout will not cause any issues for developers, because as always any developer that actually cares about the user experience (read:
not
Twitter) will use the responsive design tools in the Android SDK to make an app that scales well no matter what the screen size of the device.