Jawbone unveils Big Jambox: bigger, louder, still wireless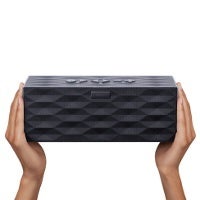 Jawbone's Jambox is one of the best looking and best performing wireless hi-fi speakers, but what if it was bigger and louder? Jawbone thought exactly that – pump out even louder sound out of the speaker with the new
Big Jambox
.
The name is straightforward – it's a Jambox on steroids, nearly four times bigger than the original speaker, and louder. It keeps the signature simple futuristic design with a couple of tweaks, and it's up for pre-order.
Back to the basics, let's make it clear that the Big Jambox, like its nephew the Jambox, connects to audio-capable device via Bluetooth, or the standard cable affair. It handles Windows PCs and Macs, but it's most impressive feature is a battery life of nearly 15 hours. The Big Jambox doubles as a speakerphone also, so you can speak directly to it on a conference call and have everyone in the room hear loudly what your callers are saying.
awesome design
. Yves Behar, the chief creative officer at Jawbone, has iterated on the original Jambox design with some additions. The Big Jambox is now and still probably the best-looking device in its class, with stainless steel construction and not too heavy at 2.7 pounds. The new Jambox comes in Graphite Hex, White Wave and Red Dot. The new things in the design include more simplistic buttons, now with a next and previous track dedicated buttons, but what we like most is that turning the device on and off is now done by pressing a single button, not moving a slider. A little change goes a long way.
It makes no sense to dock your phone
"We are targeting the speakers that want to make you dock your phone,"
Jawbone CEO and founder Hosain Rahman explained the purpose of the Big Jmabox.
"It makes no sense to dock your phone, considering we are doing more and more things on the phone."
When it comes to the sound itself, Jawbone is shipping this with its
Live Audio
technology that allows a 3D audio effect, great if you want to immerse yourself in a movie or song. It also gets much louder with the promise of no compromises in audio quality. If you want that deep dirty bass though, you'd only get it to some extent with the Big Jambox, due to its physical restrictions.
In either case, it's a worthy creation for the Jambox name, a speaker that Jawbone says was the number one selling speaker in the US last year. The Big Jambox is priced at $299, which might seem like a lot, but finally the decision is up to you. It should hit stores May 15th.
source: Jawbone