Jawbone lets you track your caffeine intake with Up Coffee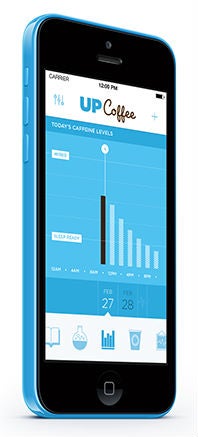 The number one addiction in the world is caffeine. People just love to have their coffee. It is to the point where studies say that as many as 35% of Americans don't get enough sleep. Of course, it's hard to say if the caffeine intake causes the lack of sleep, or the other way around. Either way, Jawbone wants to help you track your caffeine intake, in order to make sure it isn't bordering on a problem.
Jawbone already offers the Up and Up24 smartbands which can help you to track your activity, exercise, and sleep, as well as an app to track nutrition. Jawbone's app already tries to offer more than just the raw data and find patterns in your day-to-day activity. The new app Up Coffee app will focus specifically on any drinks that contain caffeine including the aforementioned coffee, soda, and any various espresso drinks you may get from Starbucks throughout the day.
The app will take that information and tell you how "wired" you are and let you know about what time you should expect to be able to fall asleep, based on how much caffeine is in your system. It will also tell you how long it will take for all the caffeine to be processed and leave your body, and give you a real-time tracker to watch the caffeine leaving your system.
Of course, everyone is different, so some of the data will take about 30 days before it has enough input to give reliable information. After that period of time, it will be able to tell you things like how many more steps per day you could be taking if you were to wake up 30 minutes earlier. Because really, there is nothing better for you than natural sleep.