Japanese carrier puts up heat warnings for Snapdragon 810 phones, advises to back up your data
23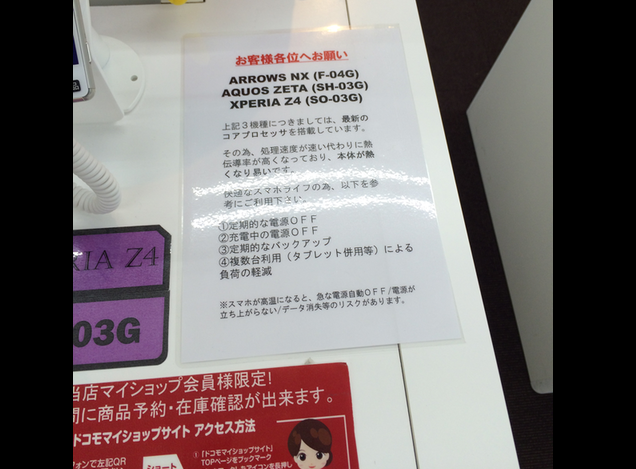 Precautions to take if you have a phone with Snapdragon 810, listed in a DoCoMo shop
It doesn't raise much more red flags than your carrier itself putting up overheating warnings for its models with a certain chipset, but that's exactly what the Japanese DoCoMo has done. Can you guess phones with which chipset had the privilege to be featured in the carrier retail store's warning?
Yep, you guessed right, DoCoMo pins the troublemakers as Sony's
Xperia Z4
(Z3+ in the rest of the world), Sharp's newest
Aquos Zeta SH-03G
, and Fujitsu's next Arrows F-04G. The common thread between them, besides that they are awesome new flagships? Why, the Snapdragon 810 processor, of course.
NTT DoCoMo basically advises that to be on the safe side when it comes to
overheating your handsets with Qualcomm's fastest chipset
, you should shut them down while charging, and back up data on the phones against the most dreadful of scenarios, or even switch to tablets when you are at home, for instance. The global
Xperia Z3+
version is said to come with the second generation Snapdragon 810, where overheating has been allegedly dealt with, but it is still startling to see such a warning in a carrier shop regardless.