Japan Galaxy Note 7 ditches the Samsung logo entirely, looks slicker for it
32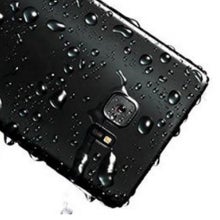 While the
Samsung Galaxy Note 7
looks poised to become a large-scale hit with consumers, we know from history that devices can change significantly dependent on region. For example, a version of the Note 7
with 6 GB RAM and 128 GB of storage
is apparently coming, though only to the Chinese market. In Japan, meanwhile, it looks like the phablet will launch without any of the Korean firm's branding on either the front or the back.
At first glance of the press images intended for Japan-based consumers, we'd say the device is more aesthetically pleasing thanks to the lack of branding. We're only talking minor details here, and one could argue that the presence of a logo adds a degree of legitimacy given the rife nature of fake smartphones. But for a clean, unblemished overall look and feel, we'll admit to being slightly envious of the Japanese Note 7 flavor, as minimalists far and wide will surely agree.
It's not the first time that Sammy has completely removed branding from a popular release. In fact, neither the
Galaxy S7
nor the
S7 edge
have the famed logo etched on the front of the device in certain markets, including Japan and the firm's native Korea. But this is seemingly the first time the company's famous logo has been completely obscured on such a high-end handset.
Do you agree that the logo-less model is easier on the eye? Let us know of your thoughts in the comments.