It's official: Apple is now selling an unlocked GSM iPhone 4, prices start from $649
12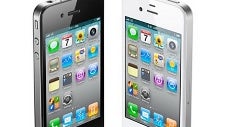 An unlocked
iPhone 4
officially going on sale at Apple in the US? Might have sounded like just a rumor yesterday, but today that's already a reality. Apple has launched sales of an
unlocked GSM version of the iPhone 4
at its online store. The phone comes in both black and white with the price for a 16 gig model set
at $649
, while the 32GB version will set you back $749. The handset is a quad-band GSM (850/900/1800/1900MHz) device with support for WCDMA 850, 900, 1900 and 2100 MHz bands. This means that it would work on some 3G networks in Europe and Asia, but since it doesn't support T-Mobile's 1700 MHz WCDMA bands, it
won't support T-Mo's 3G network
.
If you opt for the white iPhone 4, though, be prepared to wait a bit more as it shows as shipping within 3-5 business days, slower than the 1-3 business days it takes a black iPhone 4 to ship. You shouldn't forget that the iPhone 4 requires a
micro-SIM card
, so – as Apple warns you – you should get one from
any supported GSM carrier across the world
. From there on the setup is pretty straightforward - you just have to register on iTunes and you're good to go.
Finally, in case you still want to use it with
AT&T
, but without the ties of a 2-year agreement, some simple calculations show that you'd be
better off getting the locked iPhone 4
which runs at $199 for the 16GB version. Even if you pay the full $325 early termination fee, you end up paying a total of $524.
, much less than the $649 Apple charges for the unlocked version of their handset.
Update:
As some of you have pointed out, in case you decide to save a buck by getting a subsidized locked model and subsequently trying to terminate your agreement, you'll also end up paying for activation ($36) and first month service, so your total will be a minimum of $614.99, much closer to the price for an unlocked iPhone 4.
Recommended Stories