It's broken? Use the iFixit app for Android and iOS (and webOS!)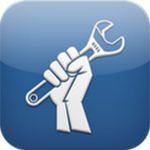 Are you the type of person that friends and family turn to when their electronic gizmos break down? Or did your own phone or tablet suffer a screen crack shortly after the warranty ran out? The guys at iFixit have long helped provide teardowns of everything from cars to our favorite
tablets
and
phones
, but to access those teardown guides you had to have access to the web.
Now iFixit has released apps for Android and (a little bit earlier) iOS, so you don't have to lug a laptop around (or run back inside to check your desktop) when you are fixing something using an iFixit guide. It's also great for those of you who simply like to browse the innards of various devices, or to settle friendly disagreements about how much space a battery takes up inside of your favorite tablet, etc.
The apps aren't just on Android and iOS, those of you rocking HP's TouchPad (assuming you haven't installed Ice Cream Sandwich on it already) can also download the iFixit app for your webOS tablet (sorry, webOS handsets aren't supported).
So if you are the handy type, or perhaps want to spend your free time learning so you can become one, you may want to go check out the iFixit app(s) at the source link below.
source:
iFixit.com
via
Engadget