It's all about being number one says Samsung in its new U.S. ad for the Galaxy S II
71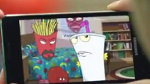 We
reported
earlier that Samsung had leaped to the top spot of handset manufacturers in West Europe, thanks to the sizzling hot Samsung Galaxy S II. Now that the phone that has been described as
being the best Android phone ever
is coming to three of the top four carriers in the U.S., Samsung is spreading the word on its U.S. television commercials that the only number that is important is the number one.
Nobody sets their sights on second place and no one wants to finish second is the message that is repeated during the 60 second spot which fittingly enough, debuted during the NFL's opening weekend for the new season. You could imagine Vince Lombardi with a Samsung Galaxy S II in his hand,
exhorting a locker room full of smartphone buyers to purchase the Galaxy S II
which Samsung is not so subtly calling the best smartphone out there. Even the Aqua Team Hunger Force and Pete Townsend make cameos in the spot.
In the ad, Samsung says they built the Galaxy S II to be the "
best and brightest
" and although the ad didn't say so, you know that the next words that Samsung was thinking was, "
among ALL smartphones
". Hey, it's just the way that Samsung is wired. And isn't it interesting that Samsung elected to use the Sprint variant of the phone, known as the Samsung Epic 4G Touch, in the ad. It is the only model of the three U.S. versions to have the larger 4.52 inch Super AMOLED Plus screen and the heavily demanded Samsung Exynos 1.2GHz dual-core processor.
source:
YouTube
via
AndroidGuys