Is this the final design of the Samsung Galaxy S III? (hint: probably not)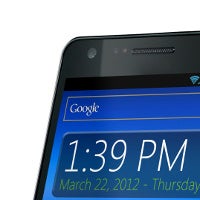 Yes, ladies and gents, the Samsung Galaxy S III, in its very final form could look like this. A tipster sent us what looks like a press photo of the allegedly "final design" of the Galaxy S III. It may be it or it may not be it and here is why.
First, the Galaxy S III in the form we see on the right is a device with no physical buttons. That would be a departure from Samsung's typical rectangular physical home key on both the original Galaxy S and its sequel, but it is possible given that Android Ice Cream Sandwich doesn't require the physical keys.
Also, what's said to be the Galaxy S III here shows a display extending to almost the whole length of the front panel, which could be seen as an indicator that it's bigger, but of course it's no hard proof.
It's clear, though, that we all want the Samsung Galaxy S III to come sooner rather than later. Just yesterday, tech insider Eldar Murtazin dropped the rumor bomb by saying Samsung has finalized the product design and is bringing the SGS III with a ceramic finish.
It's also obvious that Samsung wants to be better prepared for the launch this time. Last year, it launched the SGS II in April internationally, but stateside the handset arrived with a huge delay. Carriers only started getting it in mid-September, so there was not much time it was on sale and it's still selling great. A look at the calendar of major events for 2012 reminds us that Samsung is one of the big sponsors for the Summer Olympics kicking off in late July. If we were to build our own conspiracy theory about the next Galaxy S, that would be an ideal coincidence for the launch, don't you agree?
Do you have other suggestions and how do you imagine the SGS III? Could this be it? Let us know in the comments below.