Is the Motorola RAZR Moto Mod real or an early April Fool's joke?
23
Remember how amazing you thought the
Motorola RAZR
flip phone was? Everyone had one, and those who didn't wanted one badly. Last year, Motorola brought back those days with a YouTube video recreating the RAZR's glory days inside a high school (it even depicted a student taking a selfie). Many viewed the video countless times, looking for a clue that Motorola was bringing back the phone. And now, based on some teasers posted by Motorola Malaysia today, the RAZR is coming back.
This time around, the RAZR will be a modular Moto Mod accessory for the Moto Z line. Today's teasers don't really explain how turning the RAZR into a Moto Mod would work. The company posted a message along with the teasers that says to stay tuned for the reveal. Considering that the Motorola RAZR was the top selling phone in the U.S. for four consecutive years (2004-2008) and that 150 million units were rung up worldwide, there could be plenty of demand for a Moto Mod version of the RAZR.
As interested as you might be in the RAZR Moto Mod, one look at the calendar tells us that this is probably nothing more than an early April Fool's Day prank. If not, we'll have some interesting information to pass along soon.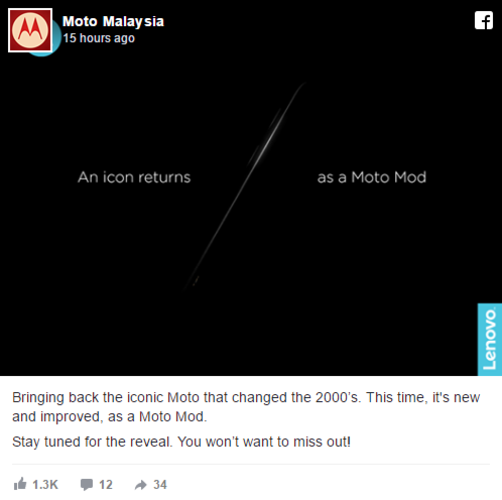 April Fool's prank or a real Moto Mod?
source:
MotorolaMalaysia
via
MotorolaFans