Is the 30-pin to Lightning adapter incompatible with old Apple accessories?
19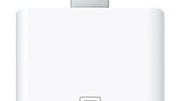 Just a few days ago, the
first 30-pin to Lightning adapters started leaving Apple's warehouse
. In case you have an
iPhone 5
and want to use your existing accessories with it, you've probably ordered one as well. Unfortunately, you might be in for a disappointment soon after the adapter lands on your doorsteps.
According to at least one iPhone 5 owner who got to test the 30-pin to Lightning adapter, certain accessories do not work. Among them are the official SD card reader, USB reader, and VGA/HDMI out accessories sold by Apple. In addition, he had an iPhone-compatible blood pressure monitor by Withings, but it also refused to cooperate. And that must have been very disappointing for him, considering that the adapter is sold for $29 by Apple. On the bright side of things, it has been confirmed that speaker docks work just fine.
Of course, there's always the chance that a defective adapter has been delivered, but whether that's the case remains to be confirmed. Anyone who has also received their 30-pin to Lightning converters are free to share their experience with us down in the comments!