Is an HTC One (M8) Prime smartphone in the works?
20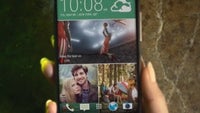 Now that's interesting. Apparently, HTC could be working on a new high-end Android smartphone bearing the "M8 Prime" codename. Word comes from a trustworthy source, @evleaks, who did not reveal any further information about the mysterious device. This, of course, leaves plenty of room for guesstimating and speculation.
On one hand, the HTC One (M8) Prime could be a specs beast, sporting an even faster Qualcomm Snapdragon processor, an even higher-res display, and who knows, maybe an upgraded Ultrapixel camera could also be in play. If our intuition is not mistaken, this new model, if real, could be meant to compete against high-ends that Samsung and LG are said to be working on –
the "Prime" Samsung Galaxy S5 model,
which allegedly packs a 1440 x 2560 pixel display, and the
LG G3
, which is
also expected to boast a mouth-watering specs sheet
. On the other hand, the HTC One (M8) Prime could be a phablet variant of the current HTC flagship, sporting a larger display, yet retaining the all-metal design and hardware specifications of the
HTC One (M8)
.
Whatever the truth turns out to be, we're guessing that we'll learn more about the M8 Prime sooner than later. But until further leaks confirm its existence, we'd recommend you to not get too excited about it yet.

Is an HTC One (M8) Prime incoming?