Is Instagram good for photography?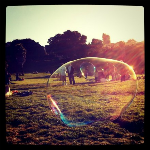 We have not been so subtle in our critique of Instagram. We have repeatedly said that the app doesn't really do much more than make people feel like they are better photographers than they really are, because the filters make it easy to turn a bad photo into a reasonably acceptable one. However, there is another theory out there that seeks to contradict ours, and we have to say, it has some sense behind it. The new Idea Channel from PBS is one of our favorite new finds in the world of the Interwebs, and has some pretty interesting ideas (like "Is Super Mario Bros the world's greatest piece of surrealist art?") And, this week the question is if Instagram may be "the best thing to happen to photography".
Right out of the gate, we were skeptical, but the logic is fairly sound. The idea is simply an extension of the 80/20 rule - 80% of the photographs that are taken with Instagram may be nothing more than a bad photo with a filter on it, but what if 20% of those pictures at the very least get the photographer to think more about color, composition, and subject? You know, those things that add up to quality photography.
We can see the value in that. It may be hard to ignore the 80% of crap, but if people are becoming more engaged and interested in learning about photography, that has to be a good thing. Right? What do you guys think?