Iris hits the Market, wants to become Android's Siri
75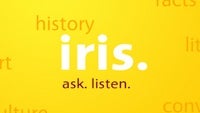 There are four things that might make you get the iPhone 4S: iOS 5, the better, dual-core processor, the improved 8-megapixel camera and... Siri, your personal intelligent voice assistant. The dual-core processors and the cameras are all there on Android, and while you can't get iOS 5, you can now have something a bit
simillar to Siri
, and it goes by the name "
iris
" with a lowercase i that is. You know what that stands for?
Intelligent Rival Imitator of Siri.
Now you could tell that the developers have a sense of humor. But
iris
doesn't have the head start of Siri, which constitutes in fourty years of DARPA research into intelligent systems and AI. Rather it is a result of an 8-hour intense hackathon.
So
what can it do?
Answer questions, of course, in voice. It probably won't be as accurate as sister Siri, but the developer promises that "she will talk to you on any topic. Ranging from Philosophy, Culture, History, science to general conversation."
iris uses Android's built-in "speech-to-text" features to make out your questions, so you'd need to have
"Voice Search"
and
"TTS library"
pre-installed. It's in the very early stages of development, though, available in its alpha version.
Finally,
iris
is sexier than Siri. Its poster image on the Android Market says enough. It probably won't marry you, though, either, but you might want to try - it's free.