Iris 9000 makes Space Odyssey look eerily real
9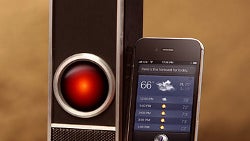 Sometimes all it takes is a little push and what follows is an avalanche of ideas.
Siri is not exactly a small push
– it's the end-product of some 40 years of research, but up until now it saw little real-world use. Port it to the iPhone – and this changes everything. When we first saw Siri,
we thought it was sci-fi
, but we also thought talking to your phone would get worn out really soon if it wasn't really the top notch errorless experience from sci-fi movies. Well, it turns out Siri has its limitations after all, so that's why the following addition is more than welcome for your humble personal voice assistant.
Iris 9000
, named after the famous Space Odyssey saga robot, is the very first accessory for Siri. It's a voice control module made by ThinkGeek but it has one big advantage – you could control from across the room. To do this, you'd just need to dock your iPhone into the cradle that's coming with Iris 9000. Now, the rectangular retro futuristic gizmo that the device is, actually sports a microphone which will detect your voice and listen to you from 50 feet away. That's where the magic happens – sadly, you'd need to use a miniature microphone to make Siri listen, which ruins the magic a bit, but it seems like the day when our devices will constantly listen to us nears.
Iris 9000 is only compatible with the iPhone 4S and doubles as a capable speakerphone. Check out the mind boggling video below and hit the source if you're interested – the device is coming in
Spring 2012
for $59.99.