Interested in paying $50 for free ebooks?
0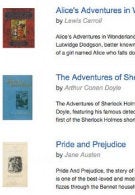 Have you ever wondered how you could make some cash without doing anything? Well, how about this: a website that offers its users to let them download all the ebooks they want, for a small fee of $49.95. The trick would then be to redirect all your users to a site like Feedbooks, where they'll get treated to a catalog of... well, free content.
Unfortunately however, this idea has already come to someone's mind, namely the creative genius behind myPadMedia.com, which offers this "service" of helping you find free eBook content on the internet, at the cost of $49.95. Yes, we know, you'd rather type "free ebooks" in Google's/Yahoo!'s/Bing's search field.
This whole scam became clear once GearDiary was reached by myPadMedia's spam on Twitter and since then has tried to clarify the nature of the scheme.
As it seems there can be no doubt about the deceitful idea behind myPadMedia, so we just wanted to say that we fully support our buddies at GearDiary for taking on the task of revealing a fraud.
sources:
GearDiary
,
more
,
still more
Free ebooks:
Feedbooks