Intel's new processors: $300 touchscreen gear coming, LTE SoC and fanless Core CPU design demoed
16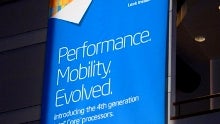 Intel took the stage at Computex today to announce its new frugal Core family with the Haswell build, as well as the new Silvermont architecture in the Bay Trail and Merrifield family that are "not your mother's Atom", meant for powering phones and tablets/convertibles.
Of course the big jump here for the 4th generation Core processors is not in the modest increase in performance, or even the record-breaking (for Intel) integrated graphics prowess, but rather the
extended battery life
of devices with them, which will be nearing current tablet territory, that hovers between 8-10 hours on average. Intel put up this chart to explain things with endurance: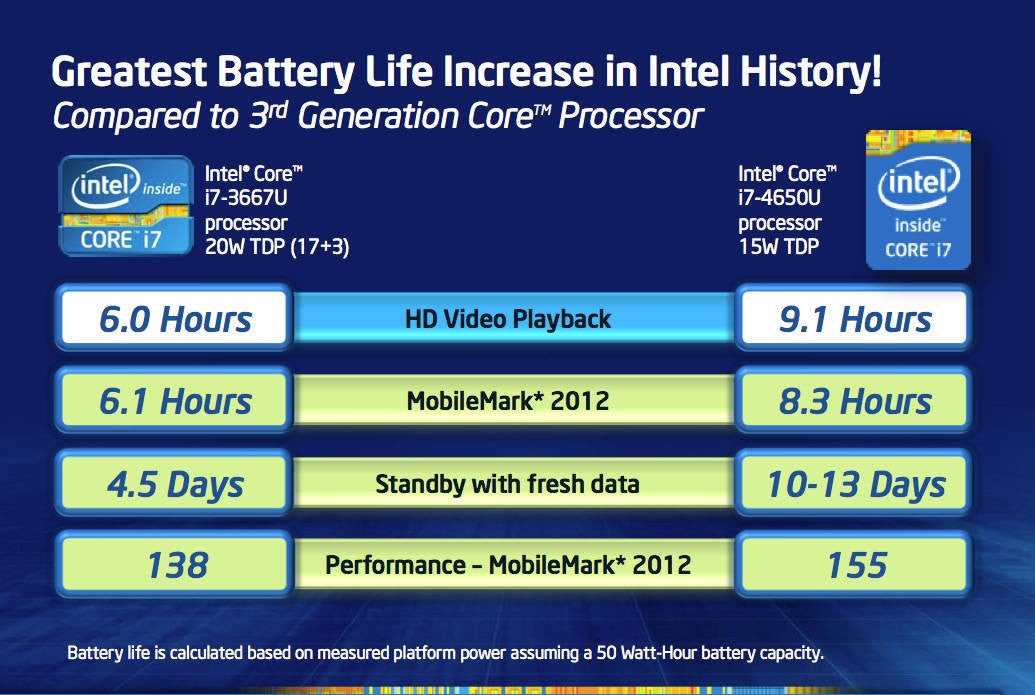 As for the mobile Bay Trail architecture for tablets and convertibles, Intel said it can scale the functionality in slices, and allow
$300-$400 devices with touchscreen
and all. Smartphones? The Merrifield chips with Silvermont architecture are a bit further down the road, shipping to OEMs the end of this year, but they should finally put to rest the claim that Intel can never figure things out with the battery life/performance ratio as well. As Intel's spokesman Bill Calder puts it:
The myth that Intel will never be able to get power down low enough to get into phones is gone. That debate is over. Not that Intel has accomplished all of its low-power goals. You can argue with me about whether we have the full SoC integration, we don't have LTE yet – but we're getting close there. I'm fine with that conversation. But the myth of not being able to get into phones or to get power down low enough is done.
Even the LTE part of his statement was debunked by Intel showing off a mobile SoC with integrated broadband LTE radio with global reach, that is slated for release later this year. Intel's VP commented on their lack of US mobile presence: "
Absence of LTE is the reason. We can't get ranged by US carriers without LTE, so once we have multi-mode LTE coming to market later this year, we have an opportunity to compete in that business.
"
The other sign of things to come they demoed for a brief second is a
fanless tablet with a new Core processor inside
, which will allow some slim and light designs running the full Windows 8 experience, for instance. All in all, Intel is seemingly getting its mobile ducks in a row, landing in a lot of tablet gear running Android yesterday,
even by the juggernaut Samsung
, which resulted in ARM's stock prices nosediving in that session, and Intel rising up.