Intel to start mass production of 22nm phone and tablet chips in 2013, says TSMC is beat
11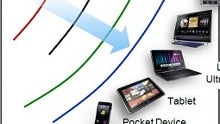 The 28/32nm processes that current top-shelf mobile chips are built with are already delivering great power/performance ratio, but another die shrink is going to compound that even further with the processors coming next year.
Intel, on the other side, as the world's most advanced producer, is already at 22nm, but for its desktop and laptop chips, like the new Ivy Bridge Core processors. It utilizes an innovative tri-gate method, where the transistors are stacked, thus saving space and improving performance.
Yesterday at an industry conference Intel announced that it plans to bring this same 22nm process to its upcoming chips for smartphones and tablets, too. It already has one in the
Motorola RAZR i
, for instance, which is chasing ARM-based processors in terms of performance/power consumption ratio, but it is built with 32nm, and a die shrink might give Intel a competitive advantage, at least as far as the CPU is concerned.
Intel's Mark Bohr mentioned that the technology had "
far surpassed
" what foundries like TSMC are capable of with their current 28nm process and the upcoming 20nm one, in terms of performance and leakage. "
We have a significant lead over our competitors,
" he claimed. "
We know that it's scalable to 14nm,
" was mentioned too.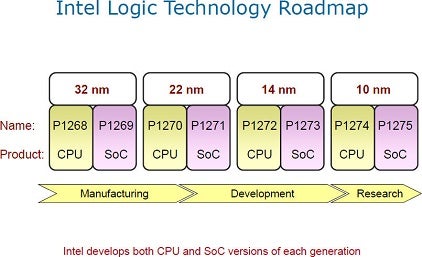 We doubt that Intel will be ready with those frugal 22nm powerhouses to go into phones and tablets before end of summer next year, and the ARM licensees are unlikely to stand still in the meantime, but it will probably mark the first time they will have real mobile competition from Intel, which we can all only benefit from. It might not be by accident that we have so many rumors about
Apple and Intel teaming up on mobile chips
then.