Instagram may or may not come to Windows Phone
16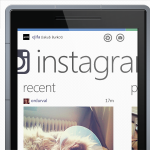 How's that for a definitive headline? The trouble is that we're not really sure what's happening. For a little bit this morning it seemed like a pretty solid certainty that Instagram would make its way to Windows Phone, but now the view of the information has become more murky.
It all started with the promo video for the Nokia Lumia 920, where there was something on the generated homescreen, which was thought to be a Live Tile for an Instagram app (in the video below, it's in the bottom right, next to the People Live Tile). It has not been confirmed whether that speculation was true or not, as the Tile could have also been for a Vimeo app. However, that was enough to send people into motion, trying to find confirmation, and the early returns said that there was an actual Instagram app in development for Microsoft's mobile platform.
However, if that is true, it is being developed independently from Instagram itself, because the Instagram team has confirmed that it is not working on a WP app. Again though, that doesn't necessarily make the app a myth. Microsoft has taken app development into its own hands, including building its own Facebook app. Microsoft would need Instagram's permission to make an app, but that actually means getting permission from Facebook, which has had a cozy relationship with Microsoft.
All that to say, we don't have any definitive information proving that there will be an Instagram app on Windows Phone any time soon, but we will say that you shouldn't be surprised if it does happen.