Instagram for iPhone gets Wide Color and Live Photos support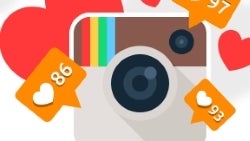 Instagram co-founder Mike Krieger announced that three new features are coming to Instagram: wide color capture and display (on the iPhone 7 and 7 Plus), posting GIF animations to Instagram Stories, and converting Apple Live Photos into Boomerang (a mini-videos app from Instagram's makers) clips. The new functionality has been almost completely rolled out and it doesn't require an app update.
Instagram contains other iPhone-exclusive features, such as a special color filter, one-finger zoom on the iPhone 7 Plus, and a 3D Touch shortcut for the Instagram Stories camera.
Previously, uploading GIFs into Instagram Stories required using the separate Boomerang app. Now, the process has been greatly simplified, with iPhone 6s and 7 users simply 3D Touch-ing the Live Photos they want to upload before bringing them in.
Unfortunately, it hasn't been made clear whether the features that aren't based on recent iPhones' native functionality – such as GIF uploading to Instagram Stories – will be made available to Android
ALSO READ