Infographic shows which mobile browsers are used the most in various countries
28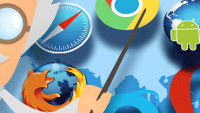 A company called Gadget Lab has produced a very interesting infographic that reveals which mobile browsers are used the most in various countries. For example, in the U.S. it might not be surprising to learn that Safari is responsible for 58.28% of the mobile internet traffic in the country, with Chrome's 31.15% share next. The Android Browser handles 7.72% of U.S. mobile web traffic with less than 1% running through Internet Explorer. The BlackBerry Browser has a .14% share in the U.S. with .03% belonging to Opera.
In other countries, like Brazil, it is Chrome Mobile on top with Safari second. In many locations it is either Safari first with Chrome second, or Chrome first with Safari second. There are some countries where that doesn't apply. Take Jamaica. 43.4% of internet traffic runs through Chrome, while the Android Browser is responsible for 31.03% of mobile web use. In that country, Safari is third with a 19.77% share.
The Android Browser accounts for a leading 37.63% of mobile internet use in China, followed by the 35.82% of mobile web traffic that is generated by Safari. Chrome (19.19%) and Firefox (4.41%) are next. In South Africa, BlackBerry Browser is second as its 28.23% share just trails the 29.99% owned by Chrome.
Safari's largest share is in Denmark, where it accounts for 72.78% of mobile web traffic. Chrome's 53.3% share of mobile web use in Peru is that browser's top score. And the Android Browser's peak usage is in Vietnam, where a whopping 83.96% of mobile internet traffic runs through it.
To improve the readability of the infographic, we cut it into easy-to-read bite sized morsels of information which you can find in the slideshow below.
source:
GadgetLab