Infinity Blade 2 unveiled at the Apple event: "visuals that you've never seen on a mobile device."
7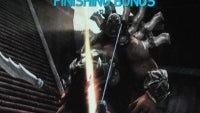 Mike Capps from Epic Games just took the stage at Apple's event to stir your mind with yet another app announcement - this time it's a game. But not just any game -
Inifinity Blade 2
. When you think about the hack'n'slash game based on the Unreal Engine 3 there are a couple of things that come to mind. The first one is stunning graphics. The second one is record revenue.
Infinity Blade 2 explicitly aims to take the first one to the next level, and implicitly - the second. Simply put, it's going to have
"visuals that you've never seen on a mobile device."
Otherwise, it brings more of the good ol' sword fighting with creatures the size of your screen (just a bit smaller).
The screenshots speak for themselves about the gameplay, but the real focus here really is on the
graphical punch
that the game delivers. The second edition of Infinity Blade will hit the App Store on December 1st, not too far away, is it? We'll update you as soon as the official trailer hits the nets.
source: Apple via Thisismynext