In wake of component shortages from Japan, Apple may agree to pay higher prices for parts
3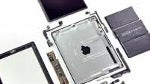 Thanks to component shortages in Japan, Apple is looking toward Taiwan to secure supplies of parts like touchscreen panel components according to a report in Wednesday's DigiTimes. The parts are so necessary for Apple to build hot-selling products like the iPhone and the iPad that in negotiating with the potential new suppliers, Apple is working in a price increase for the parts as a way to make sure that the company is well-supplied.
For Apple, paying a higher price for components would lower the firm's gross margins and could lower earnings which might have a negative effect on the stock price. On the other hand, running out of components would result in a complete shutdown of the assembly line which could result in a bigger hit to earnings and the stock price. Because of the heavy demand for the Apple iPad 2, before the earthquake and tsunami, Apple had locked up 60% of the world's supply of touchscreen panel components. However, Apple's contract manufacturer, Foxconn, counts on using parts brought in from Japan and is believed to have just 2 to 3 weeks of parts in inventory. If things do not improve in Japan in terms of transportation and shipping, Foxconn might have to stop producing Apple products. This is why it is vital for Apple to find new sources for the parts outside of Japan.
Even before the parts shortage, Apple had made things difficult for its competitors to get a secure supply of parts by spending $3.9 billion toward long term contracts believed to be for touchscreen panel components. But even if Apple now has to pay more to procure the parts, its competitors will not benefit as other vendors that supply the same parts to other tech firms will probably raise prices in line with whatever new figure Apple negotiates with its new suppliers.
source:
DigiTimes