In stereo: phones with the best audio recording
42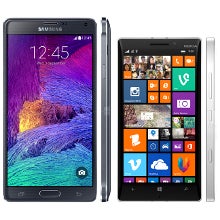 Not all phones are created equal when it comes to video sound, or general audio recording with them. There are amazing performers, like Nokia's Lumia line, where a special attention has been given to the stereo and even surround sound capture, as well as excellent ones, like the new
Note 4
.
Nokia started a very welcome trend with the
Rich Recording
functionality built into the first
808 PureView
, and hasn't looked back since, keeping its game at the top of the smartphone sound recording performance. It uses tailor-made mics to achieve what others can't, and currently its Windows Phones are the standard to beat in the field. A bunch of other manufacturers started paying more attention to the audio recording abilities of their handsets, and it all culminates now with the not one or two, but the three directional mics on the
Note 4
, which records with a very high bitrate at that.
We've rounded up some of the best performers in stereo audio recording in the smartphone universe at the moment, so you know what you are up for when you pick and choose.