In a shot at alternative reality, HP confirms a webOS tablet early 2011, while BlackBerry's Blackpad will be running a car OS
1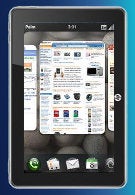 HP's PC division head confirmed in an interview that it will show the fruit of its marriage with Palm early 2011 in the form of a tablet, running webOS. HP put on the shelf its plans for the Slate – a Windows 7-powered tablet, but it is no doubt using the hardware expertise acquired on the way to come up with a webOS device just months after it acquired Palm. What would it be is anyone's guess, but webOS is great at multitasking and many other things, so a tablet with it backed by HP's mammoth production and marketing capabilities might stir up the market quite a bit.
Speaking of alternative mobile operating systems for the exploding tablet market, Bloomberg reports that BlackBerry will be releasing its BlackPad in November with an OS created by QNX – a Canadian software company it bought in April. It turns out that these guys are producing the in-car multimedia and navigation user interfaces in our Porsches, Audis and BMWs, so we are assuming that BlackBerry is aiming for a classy experience with the BlackPad. The QNX operating system has actually been around since the 80s and is now used in Canadian nuclear plants, so we'd dare to say it must be stable.
We are embedding a video of the latest QNX in-car touchscreen creation we could find, called the "Flash Motor" – the BlackPad's user interface may or may not look anything like that. It's QNX's part of a project called the "LTE connected car", using in-dash touchscreen for infotainment and controlling the car.
It has nothing to do with the BlackPad for now, but you can still check it out to see what the OS is capable of - UI is demoed as well as browsing, a YouTube client, etc. The QNX guys are heavy users of Adobe Flash in their software, so it will be relatively safe to assume Flash won't be an issue, unlike on some other tablets we know of.
source:
Yahoo!
&
BGR
Discover the QNX "Flash Motor" - a car with a difference from Paul Wyatt on Vimeo.